Rafting on the Dniester, white water rafting on the Cheremosh in the Ukrainian Carpathians, rafting on the Southern Buh
Rafting is an exciting type of outdoor activities. Rowing on catamaran or raft guarantees variety of impressions.
On a calm Dniester you will plunge into a wild nature of a picturesque canyon, get an opportunity to swim a lot, see silver waterfalls, travertine rocks, helmet's grottoes and ruins of ancient buildings.
Wild Cheremosh will cover you with high waves of emotions. In spring rafting routes include the most intricate rapids of the Black Cheremosh. Not everyone will bear a high wave of cold water. In summer this mountain river has far more pleasant temper and even can allow swimming in its rapids. Rafting takes place in the heart of the Ukrainian Carpathians nearby the Chornohora range. In April – May our rafting camp on the Cheremosh is ready to welcome tourist arriving for 1-day rafting or even intent to stay for a couple of days.
Rafting with Tourclub does not require any special experience and are available for everyone. Our skilled instructors accompany you in every rafting session.
, Rafting on the Dniester, Cheremosh Rafting, Sluch, , Rafting on the Southern Buh,
Unknown tour sub-type
No description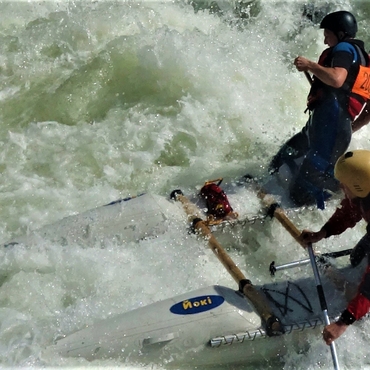 Rafting on the Dniester
Dniester rafting on catamarans and rafts in one of the largest canyons in Europe is a trip to the land of castles and waterfalls, travertine caves and grottoes, relict forests and unique climate.
Tour programs on the Dniester are optimally worked out (from physical and cognitive point of view): for those with a minimum time for leisure (weekend tours) and for those who can afford a whole week for communication with a nature.
Experienced instructors will take care of security while rafting, introduce basics of rowing technique, guide to the local attractions.
Rafting on the Dniester is a great opportunity to tan, swim and replenish the stock of positive emotions.
If you want to organize everything by yourselves - rent of equipment will be useful for you.
Cheremosh Rafting
Rafting on the Cheremosh River can be defined as an extreme and safe type of leisure in the Carpathians. During rafting you will repeatedly overcome the most difficult rapids of the Black Cheremosh, learn how to row on a catamaran and raft, and properly overcome water obstacles.
While water rising boat is swiftly carried by a turbulent stream. Frothy waves cover your head, raft swings over high propeller shafts. Rafting charges, and even in wet diving suit you will feel eagerness to raft again and again on the rapids.
The main advantages and peculiarities of rafting with Tourclub:
complexity of rafting routes increases gradually: training alloys help beginners to adapt to catamaran, and more experienced tourists recall forgotten after winter skills;

those who are already acquainted with the Cheremosh River could always find something new for explosion of emotions: training and rafting on inflatable kayaks, kayaking basics, overkeel;

healthy meals: three hot meals (soups, meats, salads, side dishes); during climbing the mountain (on top) - hot tea and sandwiches;

comfortable moving vans along the river;

weather always works in our favor: it is sunny – great; it is rainy - the water rises and you'll get additional amount of emotion and adrenaline;

comfortable rafting camp, evening campfire with games and entertainment, morning exercises, sauna.
Rafting on the Cheremorsh River is the best vacation for those who want to get a full set of emotions and adrenaline blast!
+ Short one-day rafring-tours for those who travel at the Carpathians.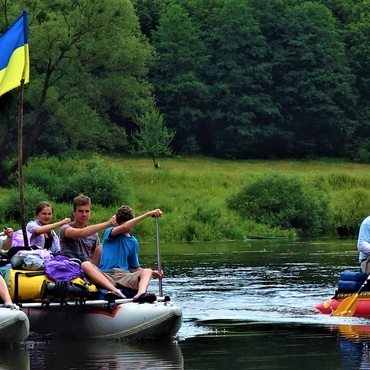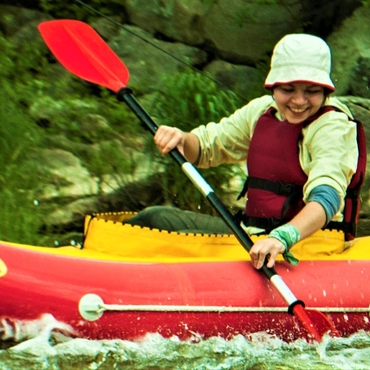 Unknown tour sub-type
No description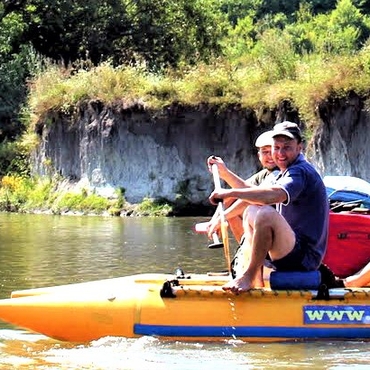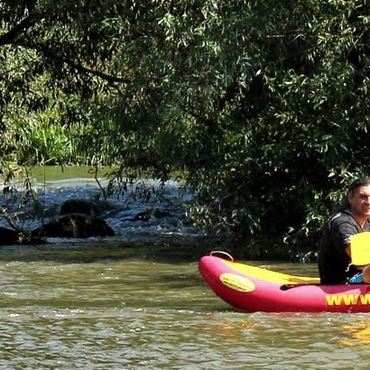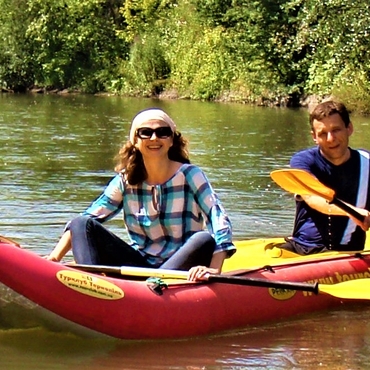 Rafting on the Southern Buh
Rafting on the Southern Buh is between the rafting on a wild Cheremosh and rafting on a gentle Dniester. It has some small rapids but its major part is calm. You can freely swim in warm and clean waters of the Southern Buh.
Advantages:
mix of uncomplicated rapids and warm water;

not far from Kyiv.