Rafting on the Black Cheremosh river is a challenging outdoor adventure on the main rapids of the Black Cheremosh 1 - 2 hour duration with a returning to rafting camp. It's an exceptional opportunity to have fun while resting in the Ukrainian Carpathians, feel the extreme from white water rafting and gat the basics of rowing technique on the catamaran and raft.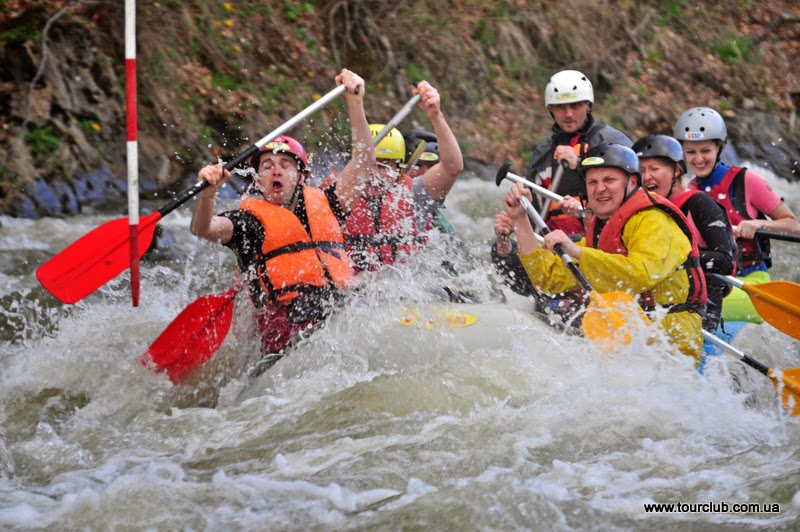 You should take on rafting:
Extra underwear, towel, extra footwear for rafting (sandals)
If it's hot - you can take shorts and a T-shirt, in cold weather and on an inflatable kayak - you should wear a wetsuit (on thermal clothes).
If you don't use wetsuits, you need to have a set of dry clothes that you put on after the rafting.
Don't forget extra shoes for rafting (sneakers or sandals).
Additionally
Services and prices in the rafting camp "Rada Daraba
Equipment rental on Daraba
Hiking and other services in rafting camp
About rafting on Cheremosh
We use inflatable kayaks and rafts for rafting on Black Cheremosh. The 4-8 tourists and an instructor can be placed at the raft. Kayaking tours are for 1-2 tourists without an instructor. For rafting on kayaks you should know the basic elements of the dam and undergo training in place.
Duration of rafting - about one hour (depends on the water level) + transfer from Yaremche (1.5 + 1.5 hours) + instruction, preparation for the rafting, transfer to the starting point (2 hours).
Special training isn't required for rafting on rafts
Rafting is forbidden for
persons in the state of alcohol intoxication, children under 10 years old (The decision to admit children to the rafting under the age of 18 is made by the instructor immediately before the rafting, depending on the water level, the child's development, etc.), persons with a significant excess weight.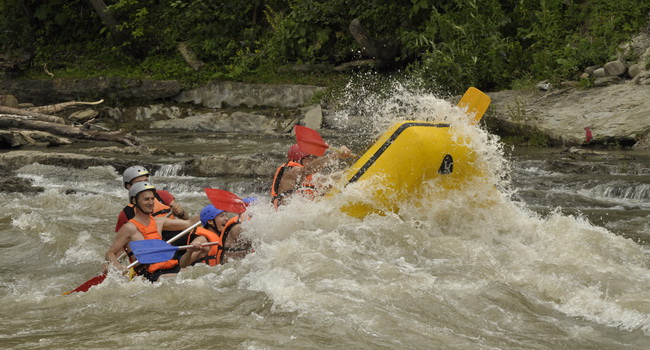 Daraba rafting advantages:
professional instructors - we take part in competitions in water tourism, go water tours, float on other rivers of the Carpathians and abroad. Instructors pass special tests and courses of the first premedical training every year.
experience - Tourclub Ternopil has been organizing active tours since 2005. During this time, we floated through the Dniester and the Carpathians with thousands of people, hundreds of people went to mountain hiking, more than 100 people had tour with us abroad (Kazbek, Montblanc, Karelia, Turkey).
comfortable rafting camp - Rada Daraba was built in 2018 in Krasnyk for rafting. We can easy dry and wash wetsuits, we have comfortable changing clothes, showers and toilets.
Rafting order +38 096 022 10 33
To participate in the rafting you should register by calling 096 022 10 33
Rafting camp works from late March to late September. From March to May 14 (in the high water season), the conditions of the rafting may differ from those, which are described here - all details you should clarify with the manager.
All rafting-tors in Carpathians.
Weather forecast in the Carpathians (near Verkhovyna).