Separate rafting trips on the Cheremosh river is a challenging outdoor adventure on the main rapids of the Black Cheremosh 1 - 2 hour duration with a returning to rafting camp. It's an exceptional opportunity to have fun while resting in the Ukrainian Carpathians, feel the extreme from white water rafting and gat the basics of rowing technique on the catamaran and raft.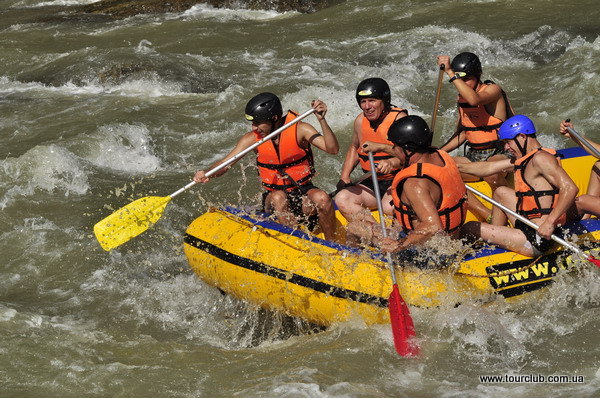 Rafting on the Cheremosh:
special training is not required: all necessary information provides the tour leader directly before rafting;
safe: qualified instructors, high quality equipment, significant experience guarantee your safety.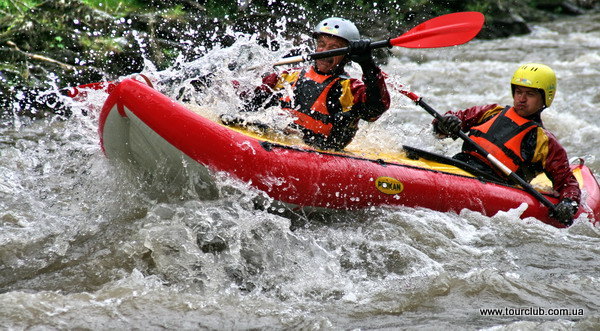 Rafting on the Black Cheremosh took place on the section of the river rich in rapids. The start place near the Dzembronia Rapid; the section for rafting include such rapids as: Didiv Likot (Granies' Elbow), Bila Kobyla (White Mare), a cascade of rapids Guchky and the bigest rapid of Black Cheremosh - Guk.
Cost of rafting is
400 UAH per person* on the weekends and 420 UAH on the weekdays.
The duration of rafting itself is about 1-1,5 hours. Other spent of time: fitting and changing clothes (30 min), instruction and training (15 min), return to camp by minibus (40-60 min), buying souvenirs, making photos, + 2-3 hours for geting to the camp.
* - included: water equipment rental (place on the watercraft, paddle, helmet, and life-jacket), guide service, returning to the camp by minibus. Excluded: clothes for rafting. Rent
Have a look at multiday rafting-tours.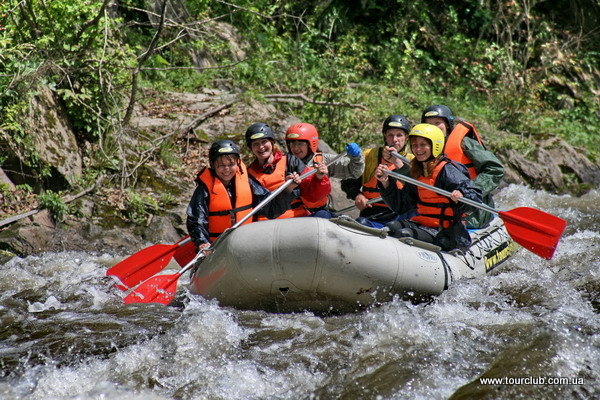 Clothes and equipment for rafting
It is necessary to have a wetsuit or waterproof pants and jackets worn on sportswear for spring rafting. For foot you should take sneakers or trainers 1 or 2 sizes up in order to put them on neoprene socks. Rafting clothes for rent: wetsuits, neoprene socks, waterproof pants and jackets. Study a detailed list of clothing and equipment for rafting: Individual equipment for rafting in the Carpathians.
In hot summer day swimming trunks and swimsuit would be highly satisfactory. In cold rainy weather you should dress as in spring. Wet suit is also necessary for those who want to try double kayaking.
If you do not use a wetsuit you should take care of dry clothes set to put on after rafting.
Also take rafting footwear for change (sneakers or sandals).
Before rafting every participant is provided with a life jacket, helmet, and paddle.
Look over weather forecast in the Carpathians (the nearest town is Verkhovyna).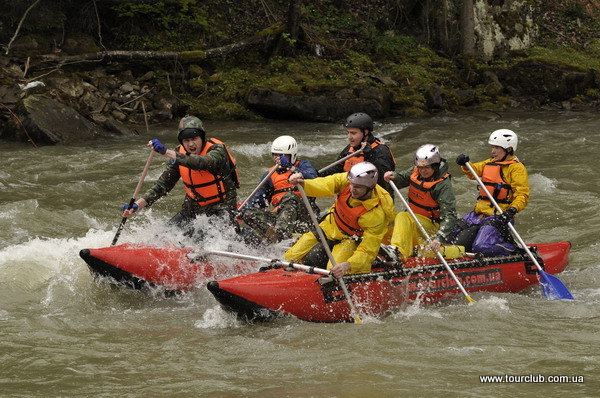 Catamarans and rafts
Our watercrafts are catamarans and rafts. Commonly, catamaran crew consists of captain (instructor) and 3 – 5 tourists. Raft capacity is 4 - 8 tourists excluding captain.
About advantages and shortcomings of rafts and catamarans (and not only) read in the article In layman's language on Cheremosh rafting.
After rafting watercrafts and participants go back to the rafting camp by minibus.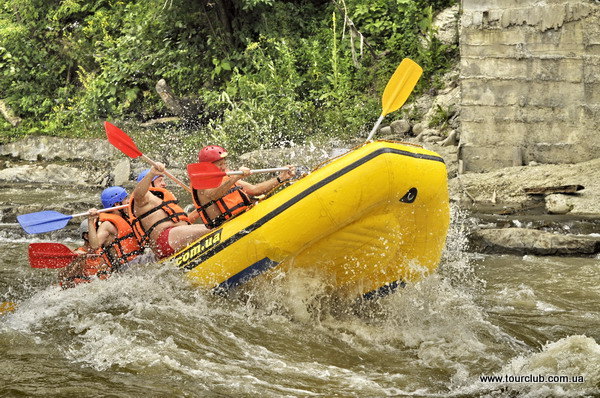 Double-kayaking
For experienced participants in low water we can offer to try double-kayaking. Training is hold on rapid Dzembronya under control of our guide. Double-kayaking for bigger distance can be allowed only after training on Dzembronya rapid.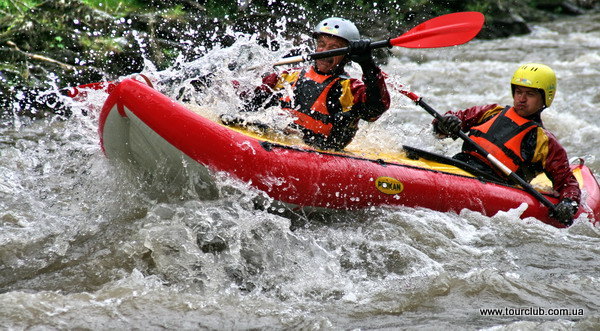 Working hours of rafting camp and how to order rafting
Rafting camp functions from April, 15 till September, 15 practically every day. Beginning with May, 11 you can arrive on any day having agreed previously on availability and time. Ring us directly: +38 096 212 40 71. You can come without informing us, but in such case you most likely will wait an hour or two.
Period of April, 27 to May, 12 is supposed to be a holiday time; therefore we accept orders for this time in advance (10 - 30 days earlier).
Rafting for groups above 8 persons should be ordered not later than 2 days before beginning and 30 % deposit is required.