Spring breakout
Actual prices and dates are here.
Spring is on a loose! In April we're opening new season of leisure time activities.
Team up with us:
- rafting with a rafting-camp "Tour club";
- rafting on the Dniester river;
- tour to Carpathians mountains in springtime;
- speleo tours to caves of Ternopil region;
- combo tours: mounting hiking + rafting.
May holidays: troubles with railway tickets
We're all been waiting for May holidays wondering how to fill them in. Timetable been scheduled and on the 30th of April till 3rd of May we are starting our tour Carpathian peaks, and on the 7th - 9th of May Carpathian rodeo. Join us!
There is a "great migration" of tourists going on in a time of state holidays causing troubles with train tickets. So, hurry up and make up your mind to dicide which tour you are on. That way we will take care of tickets to avoid any inconveniences. Remember that tickets can be reserverd 45 days prior to date (for example if tour starts on the 30.04 - than sale starts from 16.03). Please inform us with any encountered ticket issues, we'll do our best to assist you with transfer from Kyiv to Ivano-Frankivsk.
Rafting: beginners and children
We get frequently ask question about background education, skills needed for rafting on the mountain river. Don't worry if you are a beginner: you'll get to know everything from instructor before you ever get to raft, just pay attention to the instructor and strictly follow his orders. Thresholds of the Black Cheremosh match II-III level degree of complexity (where 6 is the highest possible category). High waters of the Black Cheremosh provides maximum joy and pleasure while remain its visitors in safety, that is the main feature of the river.
Rafting on the Cheremosh is conducted on these type of vessels: catamaran, raft , kayak. Catamarans can be adapted for 4 or 6 persons, the same capacity of seats can be on the raft. Rafting on the kayak is only possible in an individual training on the sole threshold. Whole route on the kayak can only be allowed by passing an exam with instructor.
Many times our rafting-tours involve children: of course, with accompaniment of their parents. The only allowed vessel for rafting with children is raft (catamaran can't be adapted). A child with an adult is placed in the middle of the raft and the other crew members sit on the sides. Please notify us about children participation in advance.
Decent preparation of personal equipment – 50% of joyful rafting
April and May by far is the most suitable time for rafting on the Cheremosh. It's the time when Chornogora and Hryniava snowmelt and provide high waters for exciting rafting.
We would like to make an accent that modern vessels - rafts, catamarans, kayaks - provides possibilities for rafting on the Cheremosh WHOLE SUMMER ROUND. So while being on vocation in Carpathians, Vorokhta, Mykulychyn, Yaremche, Bukovel don't miss an opportunity to add some flavor to your leisure time by participating in mountain rafting. Rafting camp is situated in the village of Dzembronyan and is ready for tourists to take their single raft on the rapid thresholds of the Black Cheremosh every weekend over summertime. However it is necessary to order in advance. A while visiting our rafting camp it may come in handy to have some summer clothes as well as set of winter clothes (cause snow on the banks of the Cheremosh in Spring is a usual thing).
Springtime brings us good water flow for rafting as well as all kinds of weather surprises who demonstrates its variable moodiness. That's why it's necessary to take all precautious while preparing equipment and personal items. When it's warm outside there'll be a possibility to dry your rafting suite in a specialized place. But that possibility may not occur at all. So be prepared to have an extra clothing set - it's a base element for rafting on the Cheremosh.
Talking about preparing equipment we should recall some miscellaneous items (cup, spoon, plate). Those are the top items often forgotten in tours. After long and full of impression day we need to fill our belly in order to refill our energy, don't forget to take care of that. :)
During rafting we are protected from cold spring water by: hydro suit and hydro socks. If you have those don't forget to tag them along, otherwise we're always willing to rent them out. Our equipment belongs to a wet type which means it operates on the principle of a thermos. Hydro suit allows water to enter only through zipper, cuffs and small gaps. The water that gets through the gaps warms up to the body temperature and hinders the fresh one from getting in so the body can remain warm.
Rafting + mountain hiking - unrefusable, incredible offer
Early Spring in Mountains – variable weather conditions, snow mounds, and first Spring flowers. Three and four days mountain hikes includes visits to the closest mountains tops, and an unique mountain Pip Ivan, where you get to see the highest mountain structure in Ukraine - polish observatory.
3 to 4 hours walk to the Hryniava meadows (peak Krynta 1350 m, and Zmiyinska, 1356 m) can be a nice opportunity for a muscle warm up that really allows us to observe natures awakening after a long winter sleep. Promenade to the third highest mountain top in Ukraine - Pip Ivan Chrnohirsky, it's a challenge that takes nearly 10 hours that in the end rewards it's explorers with incredible structure, founded in 1938, but now abandoned. Unfortunately observatory is closed forever due to the Second World War.
Don't forget to bring your winter boots (best option would be trekking boots) and head flashlight. Feel free to read full list of winter mountain-hiking equipment here.
May holidays in a hutsul way
During May tour on the Cheremosh you can arrange a holiday for your body as well as for your soul by visiting an antiquities museum of Roman Kumlika, which located in Verkhovyna. It's not a typical museum where all exhibits are behind the glass. Unlike the others it's an unique museum where all exhibits are alive, Pan Roman will demonstrate them to the visitors by playing old hutsul instruments, exhilarate us by funny jokes and attract us with a breathtaking stories.
By nightfall even a rafting camp at Cheremosh fills with melodious sounds of violin and authentic hutsul songs. Can there be a better rest after a long and wild day on the banks of the mountain river than hutsul vechornytsi?(Vechornytsi are Ukrainian traditional gatherings with music, songs, jokes and rituals, it's derived from word evening)
Discount on rafting tours at Cheremosh
We offer a discount for energized tourists, who already know what they want, special offer "Sharpen up your paddles in winter». Sooner you pay for desired tour, the cheaper it will cost you. If you pay in advance you'll get guaranteed fixed price otherwise prices will roughly grow up by 10%.
If you still thinking and considering about a gift for your friend or close ones, let me suggest these offer: go with leisure activities on a mountain river, to Carpathian mountains, into the wild where you can freely breath and sweetly sleep. This present can both have fixed or floating dates and can be arranged for one or two persones. If you have a friend who loves leisure time activities feel free to present him any of our tours as a gift.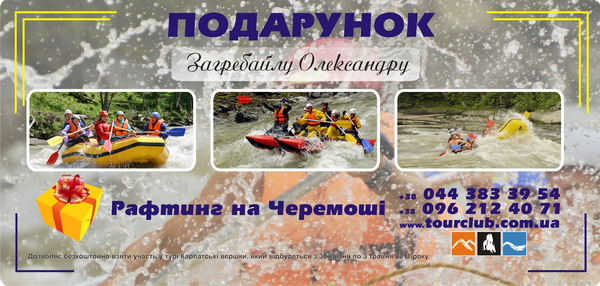 Others May tours
Aside from rafting at Cheremosh we are starting active season in May, tour rafting on the Dniester and Carpathians trekking tour. Our conquest starts with short campaigns: 4 days tour to Kukule – Kostricha (30.04-3.05.2011) and 3 days tour to Gorgany (7-9.05.2011). On these same dates Dnipro rafting is scheduled as well. Those who are thinking that sole mountain trekking or river rafting on its own is not sufficient are welcome to our 8 days combo tour "Spring in the Carpathians".