Rafting on the Cheremosh - a challenging outdoor activity on river rapids in the Carpathians using catamarans, rafts, and kayaks. Black Cheremosh rafting, obviously, is the most emotional among the tours we offer. Therefore, it provides a high-speed (15 - 20km/hour) taming the most difficult rapids, when you can be covered from top to toe with a high wave of cool water. Although the level of adrenaline and the complexity of rafting strongly depends on water level.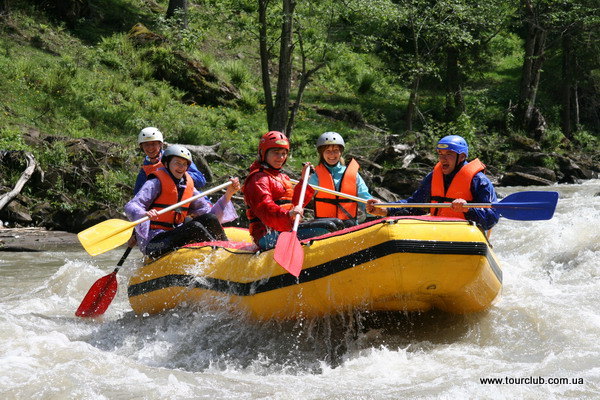 No special training required for Cheremosh rafting
Lack of experience of rafting won't make your tour less enjoyable. Everything you need to get started will be explained by the instructor. No need to row continuously. However, in some key moments you should join the team to avoid some stone. We provide life jackets and helmets for every participant of rafting.
Safe rafting will be ensured by:
• the qualified instructor, who navigates the raft or catamaran. Instructor (captain) tells the rules, shows how to row, and how to behave in abnormal situations (in case of flipping over and free-floating). The instructor also points the participants' places on the ship and comments his/her actions during the rafting. Instructor is responsible for general management of the vessel and his/her commands must be obeyed unconditionally. All instructors of Tourclub operating on Cheremosh, were specially trained and experienced rafting on far more difficult rivers of Ukraine and abroad, than Cheremosh;
• following the rules of individual safety norms;
• our minibus, accompanying the rafters and making photos;
• following the general safety rules (stop rafting during severe flooding, reliable equipment, proper selection of a crew and appropriate vessels).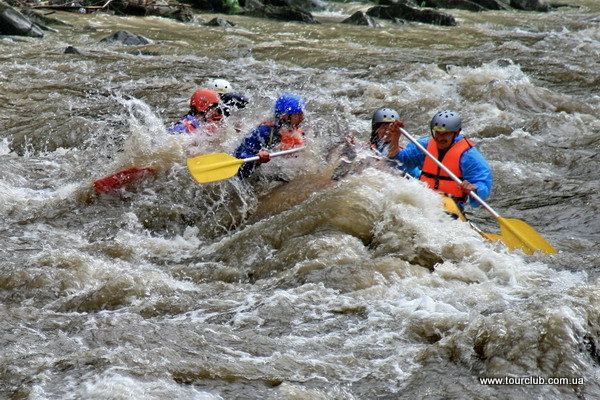 Rafting and seasons, water level in the rivers of the Carpathians
It was traditionally considered that the best time for rafting on the Cheremosh was late April - early May. Indeed, at that time snow of the Chornohora Range was melting, the water level rose and thus rafting became more interesting. There were less objective reasons: a) the majority of watermen commonly planned rafting for May holiday, so information about rafting in other seasons wasn't available, and b) until recently, the specificity of the rafting means (unreliable designs and materials) required a higher water level.
From our experience in recent years (2005 - 2010) those traditions altered. Now you cannot be sure of high spring water as the water level is more dependent on rainfall replenishing the river in spring, as well as in summer and autumn. A clear indication is summer and autumn floods in 2008, 2009 and 2010. In 2010, one could clearly say that the overall level of water in summer was higher than the spring.

The situation with watercarafts has changed. Material for inflatable elements of catamarans has become much stronger now. Nowaday catamarans are not afraid of pouncing on a stone at full speed. Small ship becomes more and more popular: inflatable double kayaks and catamarans, and also kayaks. For small watercrafts, even in low water rafting becomes interesting extreme attraction and brings lot of excitement. Besides in low water rafting considered as safe enough to try kayaking on. However, in large water kayaking for beginners is virtually impossible.
So we are confident to say that rafting on the Cheremosh ceased to be purely a spring fun and now runs from April to September.
Summer rafting is much warmer! :)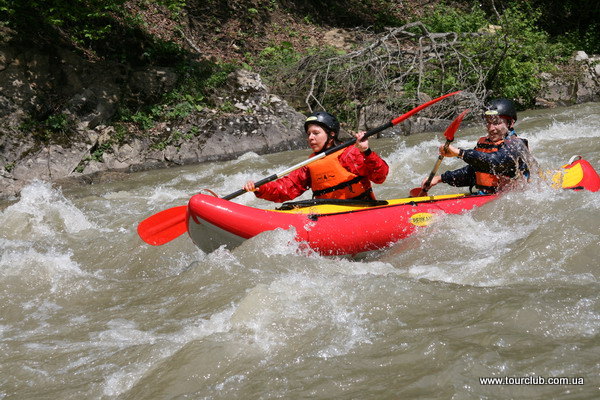 Watercrafts for rafting
For beginners, we offer rafting on catamarans and rafts. Popular question: what provides more fun?
Everyone thinks differently. But we can state that:
raft is strongly thrown by the mountain river waves, although it plunges less
catamaran cuts the waves, so water covers most of the crew; however, it is more stable than a raft
raft is more comfortable for sitting
raft is safer for children and elderly people
catamaran is faster
Those who have repeatedly experienced rafting on catamarans and rafts can test themselves on the inflatable double kayak. At first, with an instructor, then under his supervision and at last on your own. The boldest can try even a kayak. However, kayaking often ends up with an overturn.
About our rafting equipment in details: Rafting equipment.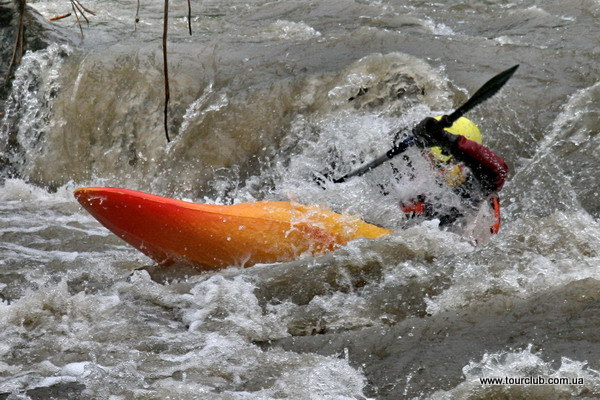 Personal equipment for Cheremosh rafting
Selecting clothes for rafting you should take into account season and weather. In spring and cold rainy summer you should wear a wetsuit or waterproof pants and jacket. In hot summer day swimming trunks and swimsuit would be highly satisfactory. For foot you should take sneakers or trainers 1 or 2 sizes up in order to put them on neoprene socks. Study a detailed list of clothing and equipment for rafting: Individual equipment for rafting in the Carpathians.
Rafting clothes for rent: wetsuits, neoprene socks, waterproof pants and jackets.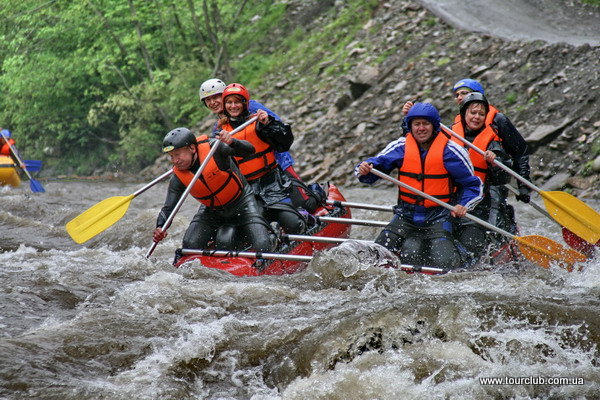 Rafting-tours: how it looks?
Tourclub presents two main ways of taking part in rafting:
rafting-tour – a complete package of services for a few days including meeting at the railway station in Ivano-Frankivsk, transfer to the camp, accommodation in a tent within our rafting-camp (or hutsul homestead), catering, insurance, rafting according to the program, additional entertainments;
separate rafting trips – 1- or 2-hour rafting. Such kind of leisure can be interested for those who are on vacation somewhere nearby in the Carpathians (Verkhovyna, Yaremche, Vorokhta and others) and ready for an active adventure. Rafting trip can be a brief one (main rapids, 10 km, 1 hour) and a long one (to Verkhovyna, 20 km, 2 hours). Rafting camp functions from April, 15 till September, 15 practically every day. You should order a rafting trip in advance in order to agree on availability and time. More on separate rafting trips.
In any case we are talking about stationary base camp where all rafting trips start, all things of yours remain (car, tents, and dry clothes) and where you return after the rafting.

Calendar of rafting-tours for May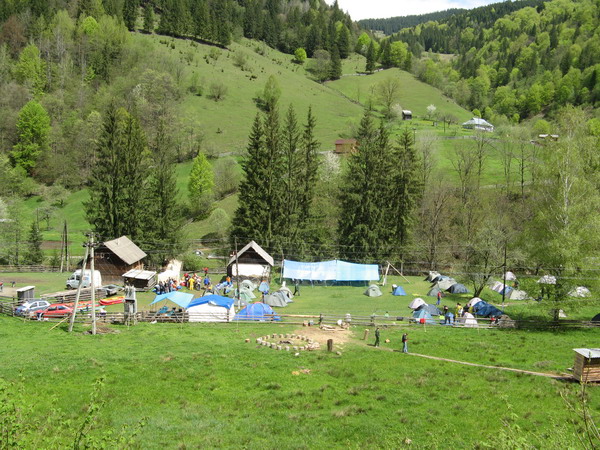 Rafting camp "Tourclub Ternopil"
Our rafting camp is a specially equipped lawn for outdoor tours. Within our camp outhouse, washhand-stand, facilities for cooking, storage for equipment, canteen under the tents, tent for dressing are located. Not far from a camp there is a private hotel for comfort lovers and a hot sauna with a cool pool. Also you can find there a volleyball ground and a small shop. Besides rafting we can offer: walking to the mountain of Krynta or Pip Ivan, horse riding, mushrooms and berries, hutsul traditional dishes and others. Our rafting souvenirs (magnets, cards, bandanas, and shirts) remind you about a pleasant holiday in the Carpathians.