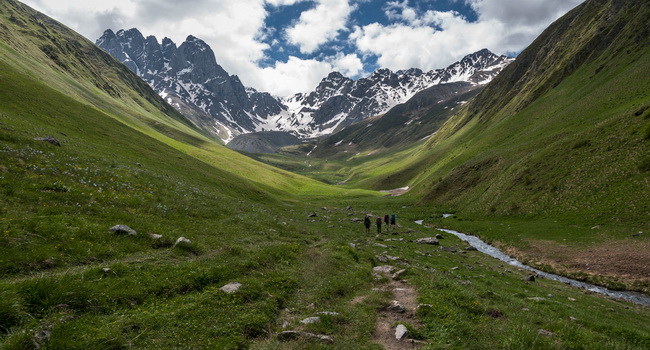 Georgia is a great destination for outdoor activities. Nature in this country promotes to all types of tourism. There are many lush mountains for trekking and hiking rambling. These low ranges (1500-2500m) offers fabulous views of the snow-capped giants (4000-5000m), which attracts climbers and steeplejack different levels. There are a lot of mountains, mountains that are wild and untouchable by tourists
From the mountains, rivers descend rapidly. Rafting in Georgia is possible from early April to late October. Here can be found small streams with waterfalls for kayakers and powerful wide rivers for catamarans and rafts. There is a calm river with picturesque beaches, where you can meet evenings Georgians who will treat your house wine.
Cyclists Georgia attracts with large network of dirt roads, road passes up to 2000m and numerous architectural monuments that sometimes you need to carefully look at forests or gardens. Cycling in Georgia - is the best way to see most of the country from within.
Also known traditional charm of Georgia:
Hospitality. In Georgia, constantly invited to visit or for dinner.
Sea.
Fruits and berries. Infinitely a lot of grapes, watermelons, figs, pomegranates, peaches and other fruits.
Wine. The old traditions, homemade recipes.
Police. Always ready to help.
"Tourclub" team has several years traveling Georgia and is happy to help others get to know this beautiful country during the tour.
First three tours provide hiking through the mountain part of Georgia, every one of the is diversified by some elements: rafting on the Rioni, climbing on the mighty Kazbek (5033 m) or by this one and that one; and also by small excursions program. The fourth tours has totally another program, and its main part is trekking the summit Laila (4008 m), the beautiful views on the Main Caucasus spine are opening from it.
Tours begin and end in Kutaisi, where you can fly lowcost Wizzair.
Photoalbums from our trips to Georgia:

Trekking, rafting + Kazbek
September 2014


Trekking, rafting + Kazbek
September 2013


Shateli region
Mount hiking in Georgia, 2012


Kazbek
Mount hiking in Georgia, 2012


Horшsar lake
Mount hiking in Georgia, 2012


Kazbek
Trekking, rafting+Kazbek, 2011


Trekking near the Chaukhi
Trekking, rafting+Kazbek, 2011


Rafting on the Rioni
Trekking, rafting + Kazbek, 2011


Prometeus cave
Trekking, rafting+Kazbek, 2011


Tbilisi - Shateli
Bike trip in Georgia, 2009