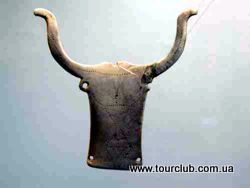 trypillian amulet

Podilska territory is known for its underground treasures – caves. They are about ten here. Because of peculiar geological structure, namely, a powerful underground gypsum layer, on the south of Ternopil, Khmelnytsky and on the north of Chernivtsi regions a whole cave massif was formed. Optimistic is among the world's largest gypsum caves, Ozerna is with huge lakes, Atlantyda is the most beautiful, Mlynky is the most sporting, Verteba is the only Cave Museum in Ukraine, Crystal is equipped with electrified route and a few small caves. Each of them is interesting and unique for speleologists, as well as for historians and archaeologists. Verteba cave, which played a crucial role in restoring the ancient history of the world, is of particular attention for archaeologists. It is also called "Podyllya's Pompeii".

Verteba cave is located ("verteba" for ancient Slavs is a "cave") not far from the village of Bilche Zolote of Borshchiv district of Ternopil region. The cave was discovered by a local land owner Adam Pototskyi back in 1823, while hunting. Just at the entrance he found incredible number of ceramic products that were wrongly listed as the items of the Roman culture. In fact, it was a discovery of Trypillya civilization, yet unknown at the time, which for 30 years outpaced its official recognition in 1850 in the village of Tripoli, near Kyiv. Mr. Pototskyi all his life worked on the cave study, organized the exhibition in his own palace, and after his death, all findings were transferred to the ownership of Krakow Historical Museum, where they are kept now.
Today the cave is under supervision of the workers of Borsgchiv History Museum, who continue its research and acquaint visitors with an exhibition in the same cave.

The cave-museum is a remarkable experience. From the first minutes the visitors get into the world of the civilization that vanished over 5000 years ago.

The fact that people were in a cave for a long time, leaves no doubt: the black charred walls - traces of fire places for heating and lighting, deposits of crushed ceramics, which served as a couch, a lot of grain graters and clay pots to store grain. According to scientists, people lived here for about 300 years, only the reason for their staying underground remains unknown. Why did people, for whom the Sun played one of the most important parts in life, hide from it? Perhaps it was a burial place. In one of the halls a burial of 25 men was found, here and elsewhere single graves appear in the cave. Perhaps Verteba was a storehouse and a place for winter stay. A great number of graters, pots, arrowheads were unused, and traces of fire places and crockery couches indicate that 200-300 people could be settled here during cold seasons. One of the versions assures that this is a place for ritual processions. It is in Verteba where two mysterious priestly amulets in the form of the head of a bull and a number of binocular-like bowls, purpose of which still remains a mystery for us, were found.
Archaeologists hope to find answers to all these questions, digging out a new, recently opened cultural layer, which lies half a meter deeper than the last one.

Verteba is of interest as a natural cave. Despite the charred walls, typical for gypsum caves crystals, calcareous forms, one of which has an inscription since 1817 (!), and a sword-like gypsum pattern of the walls occur here. The cave itself is a huge hall, which lies only at a depth of 10 meters below the surface, supported with the hundreds of columns, which greatly complicates targeting. And numerous bats… From small, single hanging, tulip-like horseshoe bats to a dozen of fluffy bats with wet noses that clustered in eared bunches. Once the colony is flash lit, the hand-wing mass begins to stir – something not for mentally unbalanced.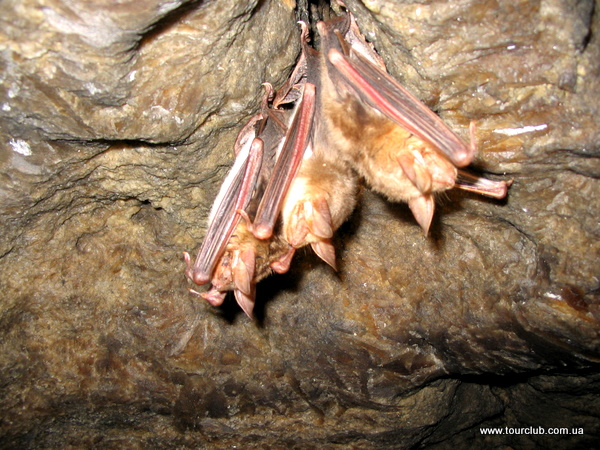 Such excursion encourages further study of our ancient history. It already can be done in our country – in Borshchiv or Kyiv, and also a famous Krakiw museum may be visited. But the most valuable addition to the study is assistance to cavers and archaeologists in the excavations. In summer an expedition is held here, and all comers are invited to participate. A big interesting company is gathered - students of Borhchiv Pedagogical Institute, historians and archaeologists, and just curious people. If you wish to join, you'll be happily met and provided with everything necessary for work.

So if you have not decided yet where to go this weekend, you can follow the footsteps of the ancient civilization.
| | |
| --- | --- |
| | |
| such pitcher used our ancestors | results of excavations |
Yulia KASHUBA