Georgia is a unique country for extreme tourism. Rafting season in Georgia lasts from April till November. Tourclub Ternopil offers a wide range of rafting tours of various duration and complexity.
Our rafting in Georgia include not only rafting along mountain rivers, but also exciting sightseeing through the most beautiful places of hospitable Georgia. Combined tours through Georgia are a perfect variant for active rest.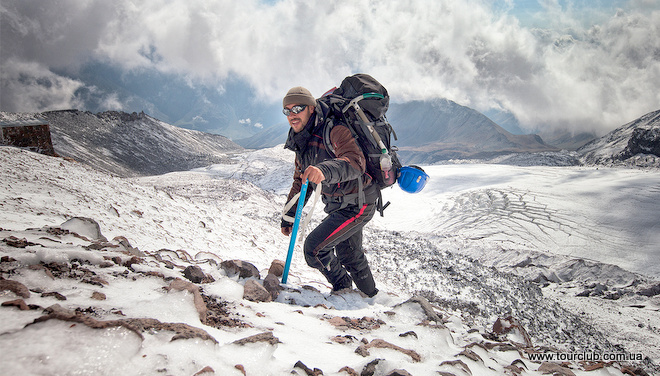 Rafting Tour, Tracking + Mount Kazbek
The tour includes rafting along the Rioni River, climbing Kazbek (5033m), visiting Prometheus cave, excursions to a cave settlement Uplistsikhe, a high-mountain church Sameba, and bathing in Tbilisi sulfur boilers. The tour takes 15 days, the program can be simplified (without climbing Kazbek) at the wish of tourists. The best time for this tour is from June till November.
We would like to mark that this tour rafting in Georgia is not for beginners, the participants must have good physical conditioning, experience and skills in backpacking and rafting along difficult rivers.
The price for the tour is 390 dollars. What does it include?
Insurance
Transportation within Georgia
Living in a tent camp, meal during the trips
Hiring special alpinism equipment, rafting equipment (paddles, kayaks, catamarans etc.), and special clothing
The price for rafting tour does not include personal expenditures: flying from Kyiv to Kutaisi and back, individual nourishing in cafes and restaurants, tickets to museums, cave complexes and Tbilisi boilers, sleeping bag and backpack hiring. At the wish of the participants an individual set of equipment for climbing Kazbek can be hired.
Before the start of the tour detailed instructing for every participant takes place. An experienced instructor stays with you during the whole tour.
Out trip starts from meeting in Kutaisi airport, then we move to Kazbek region for training tracking. And the most exciting things: sightseeing in Mtskheta and Ananuri fortress, having a look at the towers of Sno settlement and Sameba temple, walking through night Tbilisi, going by funicular, visiting the Botanic Garden, and bathing in Tbilisi sulfur boilers.
Before rafting in Georgia along the Rioni River starts we go rafting along some easy part of the river (a couple of kilometers). The Rioni is a deep and fast river. The obstacles in the form of rocks, logs, and barrels are waiting for the participants of the rafting tour. Dangerous sections are Mukhli, Sharauli, and Makvena.
Just imagine how many emotions are waiting for you!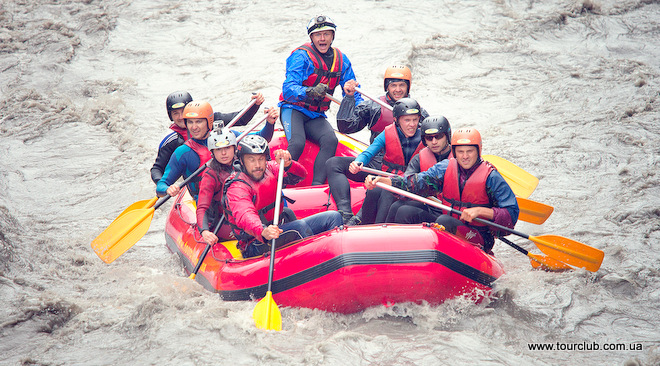 Contracted rafting in Georgia along the Rioni River with tracking takes 13 days. This program will not be lessinteresting and rich.
The price for the tour is 310 dollars. Rafting along the Rioni is quite difficult, it is estimated as of the 3rd complexity level. Backpack routes will take place in not very high mountain reliefs. The route is worked out in such a way that the group goes from one valley to another one across passes every day, and the height of the passes reaches 3.5 thousand meters. That is why this route is suitable only for those participants who are well-prepared.
Between backpacking and rafting the instructors and guides will show you all the beauty of Georgia. These are wonderful landscapes, architectural constructions, pure lakes, caves, and ancient temples. And, of course, you will taste delicious dishes of the Georgian cuisine: lamb chanakhi, poultry chakhokhbili, khinkali, suluguni. You can make your program more diverse due to fishing and hunting.
Join our team! Rafting in Georgia will open a unique country with its unbelievable beauty, cordiality and hospitality will give you a lot of bright emotions and unforgettable impressions!