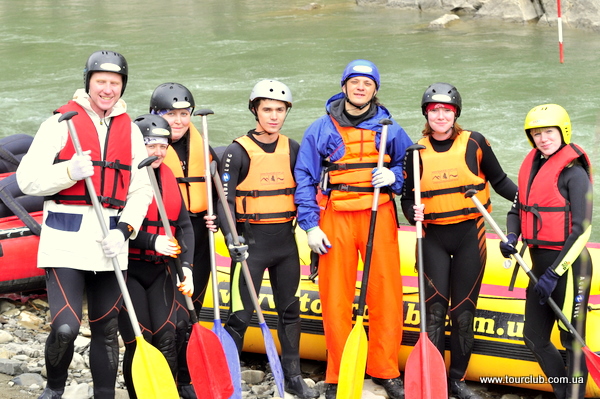 Diving suits for rafting used in Carpathians in Spring permanently and in Summer in cold rain weather. Kayakers can dress diving suits even in hot weather , because even in summer the water in mountain rivers is cold enough.
Turclub suggests diving suits of the wet type made from elastic neoprene with the thickness 3-4 mm for rent. It becomes wet but keeps warmth. As a rule, diving suits don't have sleeves to make it comfortable for rowing. There are different sizes of diving suits, so during your order, especially on May holidays, we recommend you to attitude to the filling of table with your parameters carefully. So we can choose optimal size for you. In the holiday period the number of free diving suits are limited, so you likely cannot choose the diving suit in the place. In general diving suits are elastic enough, and they stretch when they become wet. Hydro socks and gloves complete clothes of water tourist.
Every night we dry diving suits and hydro socks, so in the morning you every time will get practically dry clothes. Diving suits can be little bit wet in the bottom of the leg – this part usually dries up last.
How to dress hydro stuff
As hydro stuff are active rented, we don't recommend to dress it on the «naked body». Usually, we try to launder clothes regularly, but unfortunately we can't guarantee that you will get just laundered clothes. So under diving suit you should dress thin pants or thermal pants, and T-shirt – necessarily. You should dress hydro socks on your own clean thin socks. The socks' cuffs must cover the legs of diving suit. Over the diving suit you should dress waterproof jacket (raincoat).
In cold weather you can dress fleece sweater or something similar under or over your diving suit. If weather is especially cold (0-5 degrees) or cold (5-10 degrees) and windiness we recommend you additional windproof pants.
Footwear. For rafting it's good to wear the old sneakers, light trekking shoes or sandals. The main requirements: to fit your foot with neoprene sock in your footwear and make your footwear to keep on your foot well. For more difficult river you need more strong footwear (to not screw your leg, lose your shoes in the rapid, leave it in mud).
Under helmet we recommend you to wear light cap, bandana or buff. Blazer can be uncomfortable. If you have long hair you need to keep it such, that it will not stands out (to not obstruct for view) and will not make bundle, «knot». Also you need to take off the big pins.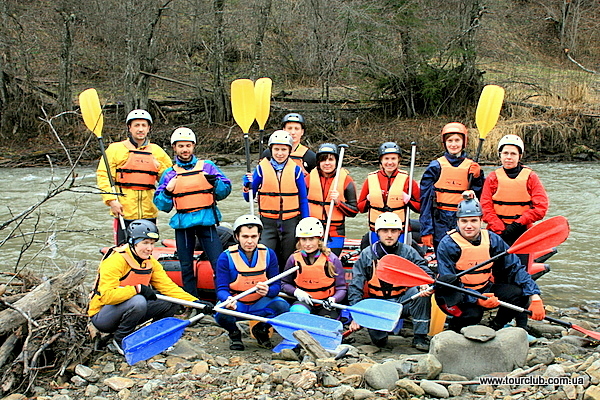 Diving suits, hydro socks and gloves for rafting for rent
See also:
Review of rivers for rafting in Carpathians region