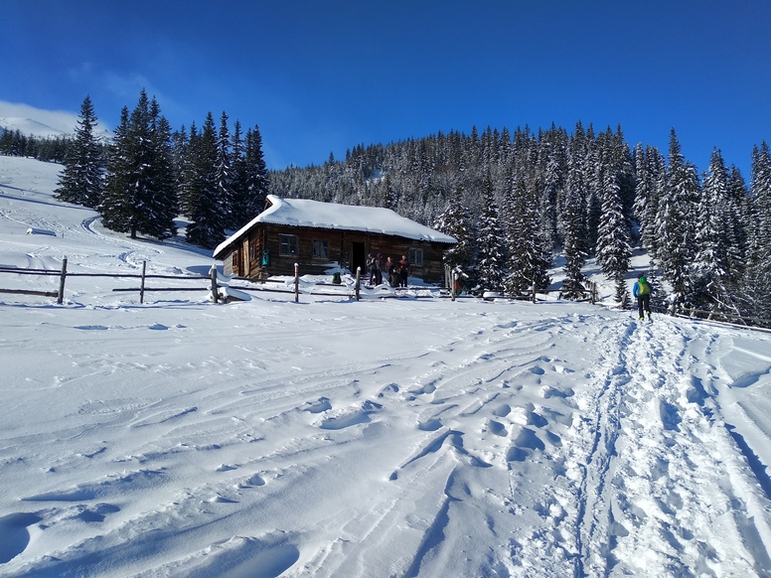 Arriving for accommodation in the Carpathians at the Rada Daraba campsite, you have several options for winter holidays in the mountains:
- Skitour - are walks in the mountains on special skis, which allows you to easily move on loose snow, where without skis you can fall to your knees or even to the waist. The path runs along picturesque routes with an experienced guide who will show and tell everything even if you are skiing for the first time.
- Winter Hiking on Pip Ivan. Climbing for enduring tourists, because in winter Pip Ivan is quite a difficult mountain, and without experienced accompaniment climbing can be dangerous. And yet, the instructor will help you choose the right equipment that will facilitate the climb
- Alpine seminar in the Carpathians - suitable for those, who plans to climb high mountains such as Mont Blanc, Gran Paradiso, Kazbek, Tetnuld and others. The alpine seminar will also be useful for those who are planning winter climbs in the Carpathians and want to make them as safe as possible. For example, winter climbing on Pip Ivan, Petros, Spitz and others
- Freeride - entertainment for confident skiers who want to travel on unpaved slopes away from ski resorts
- Skiing on Mount Zapidky. It is a 15-minute walk from Daraba, there is a ski lift and ski equipment rental, a good ski instructor who will put anyone on skis.
- slides for sledding for children
- low hills for radial walks in the mountains
- museums in Verkhovyna, approximately 10 km from Daraba
- There are 2 Carpathian tubs on the territory of the campsite. You can order a tub for a large company - up to 10 people, or a small tub for a company of up to 6 people.
Accommodation is not expensive, we have a comfortable, warm and cozy. We can also organize delicious food for your company from home-made Carpathian products - milk, berries, mushrooms.
We are waiting for you in Rada Daraba!