Cheremosh is one of the most interesting rivers for rafting in the Carpathians. It is accompanied with amazing nature, mild spring or hot summer and the friendliness and hospitality of the Hutsul region.
For beginners Cheremosh is their baptism of fire while professionals are interested in Black Cheremosh for its complicated areas, waterfalls and numerous rapids.
Tourclub Ternopil provides rafting on Cheremosh with different difficulty levels, one-day rafting on canoes, rafts, catamarans and long-term combined tours.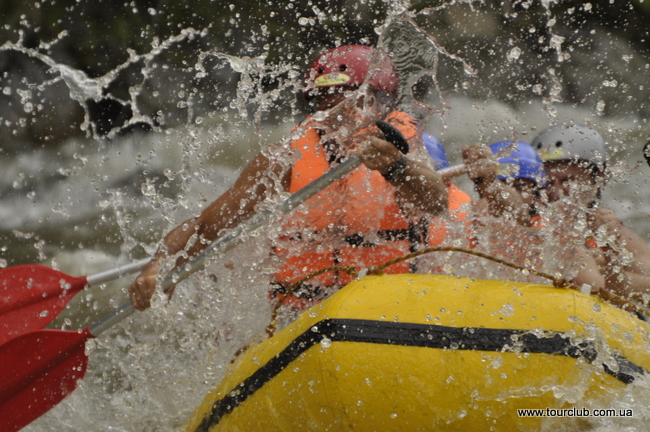 Rafting in the Carpathians is an interesting and rich program of tours
Our rafting camp is open from April to October and welcomes tourists on a daily basis. For beginners we offer a short, 1-2 hour riding on rafts and catamarans on Cheremosh. Professional instructors work with the tourists and our minibus accompanies and takes photos during a rafting.
Before rafting everyone is instructed
All participants are equipped with protective equipment (helmets, vests, wetsuits)
Boats (canoes, catamarans, kayaks, rafts) are reliable and checked.
Experienced rafters will be interested in long-term tours on Cheremosh, trips on inflatable canoes and kayaks.
The tour of rafting on Cheremosh includes passing the most interesting parts of the river from the villages Dzembronya to Krasnyk through an endless chain of rapids of various levels of difficulty. Dzembronya meets with small waterfalls and barrels, rapid Grandpa's Elbow welcomes with sharp turns and long rapids, later we will visit rapids White Horse and Huchok. The rapid Hook makes us work with the oars and show all the rafting skills while going through huge barrels, high walls, rapids and rifts. The program also includes hiking in the mountains, walking in Hrynyavski meadows, climbing such peaks as Zmiyinska, Pip Ivan, Krynta and the pearl of the Ukrainian Carpathians –Goverla (2061m). On the Pip Ivan mount we go to an old Polish observatory, make a stop at Yaremche waterfall, visit the souvenir market, walk through the cliff Sokolyne Oko (an Eagle Eye) and Protyati kaminnya (Cut rocks) and admire Bukovyna waterfalls.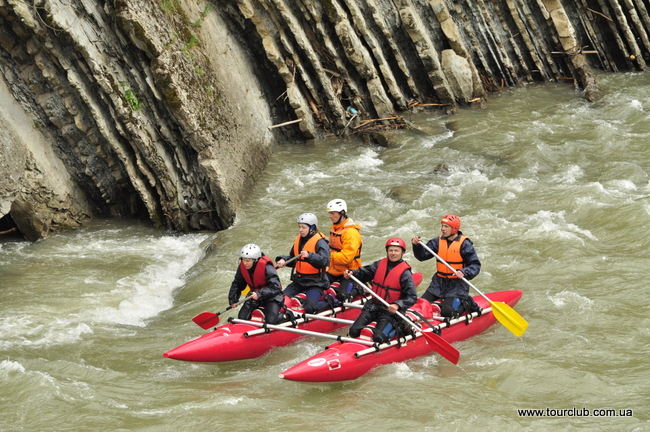 Fans of extreme sports can raft on White Cheremosh and Prut. There are wild landscapes, canyon walls, steep turns and unruly water. Our tourists can also enjoy horseback riding, archery and fire practicing, swimming in the river, playing football and volleyball, quest games, picking berries and mushrooms, evening campfire dinner in Hutsul kolybas (huts) and a lot of fun.
See you in the Carpathians!