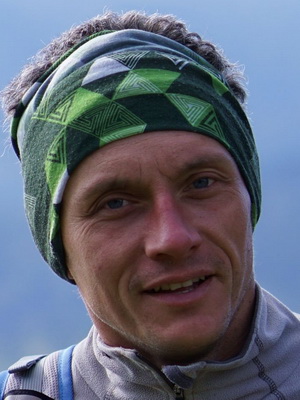 Rybakov Alexander Vladimirovich "Kamyanets"
Personal information
Date of birth: 23.11.1982
Location: Ternopil
Education: Higher, Ternopil Academy of National Economy
Marital status: Married and raising two daughters

The first hike
August 1995, Carpathian Mountains
Sports and tourism achievements
Candidate for Master of Sports in Sport Tourism (Water Tourism)
Participation in competitions
Water tourism
And place in the catamaran-four class at the Ukrainian Water Tourism Engineering Championship "Cheremosh - 2007".
Repeated participant of the Cups and Championships of Ukraine on water tourism at the Candle - Mizunka, Fri. Boogie and Cheremosh.
Climbing
І - ІІІ places at the Championships of Mountaineering and Climbing Federation of Chernivtsi region in 2000 - 2001.
Hiking
The participant of the Supermarathon "100 km in 24", the result - 13 years
Professional activity
Instructor on water routes since 2003.
Instructor for hiking and skiing since 2005.
Instructor at Mlynki Cave since 2002.
Instructor on new or unconventional routes since 2005.
Large group instructor since 2005.
Travel geography
Mountains: Ukraine, Poland, Romania, Georgia, Russia (Caucasus, Altai), Slovakia, Austria, Germany, Italy, France, Bulgaria, Turkey
Years: Ukraine, Georgia, Russia (Karelia, Altai), Turkey
Led: Ukraine, Georgia, Turkey, Kazakhstan
Caves: Pancakes, Acrylic, Optimistic, Lake, Cinderella
Types of tourism are the most difficult hikes
Cycling - V cc, participant // III cc, leader.
Water tourism - IV c., Participant // II c., Manager.
Mountain tourism - II c c., Participant / / II c., Manager.
Ski tourism - III c., Head.
Hiking - I Ph.D., Head.
Speleotourism - n / a, manager.
Other
Chairman of the Bicycle Commission of Ternopil Regional Federation of Sports Tourism of Ukraine.
Member of Ternopil Oblast Routine Qualification Commission.
Mountaineer of Ukraine icon.
First Aid Courses.