Tour participants should imagine the complexity of campaigns in order to feel comfortable on the route. Most tours are provided for healthy people without overweight that arrange physical activity from time to time. Healthy means without diseases which prevent significant physical activity (heart rate 150-190 beats per minute), mentally adequate. More details on each type of tourism can be found below.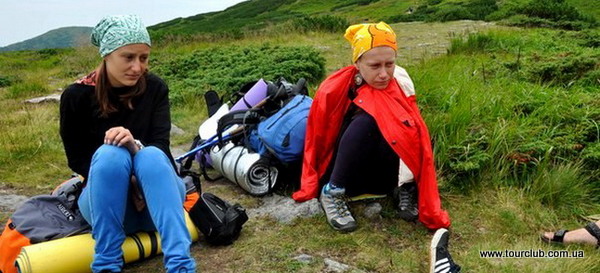 Common theses:
rafting on lowland rivers doesn't require special physical training
hiking tours are more comlicated than lowland river rafting
climbing in the mountains, winter and ski tours are more complicated than summer hiking
the better your physical preparation is, the higher your comfort on the tour will be
group tempo is determined by each group itself, though there're "strong and fast" groups and there're so so :)
it'sa a pity that not every tour participant reads this page, that's why, one should be patient when waiting for weaker group members from time to time
Physical training on lowland river rafting
Rafting on lowland rivers (Dniester, Zbruch, Bug) is the simplest form of leisure among those offered by our Tourclub. When sitting on a catamaran or raft it's preferably to paddle. But if you get tired and stop, maybe your neighbor will continue to paddle. Otherwise, nothing bad will happen. Your group will set a camp and have meal a little later, or the chief instructor will shorten the route if possible. Most of the day is spent on a catamaran. There'll be regular berths for tour excursions, technical stops and lunch. Considerable weight or big belly completely fall on one's ass. It will sit on a not so soft and not very high sit of a catamaran.
Previous physical training is not required. The person must be healthy and able to scramble out on a spoke 50 cm height. Ability to swim is desirable.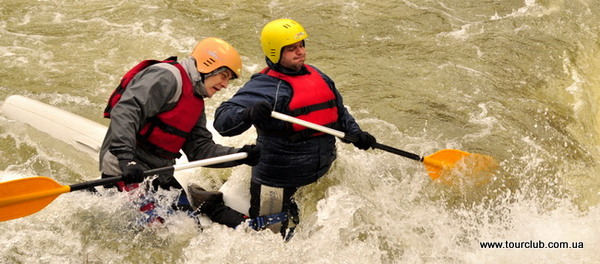 Rafting on mountain rivers (Cheremosh, Prut, White Cheremosh, Black Tisa) is a bit more complicated. When passing thresholds instructor hopes that you'll paddle. If Cheremosh instructor may usually successfully pass the thresholds with not-rowing crew than on Prut and White Cheremosh it's not real. So, one necessarily need to paddle on mountain rivers for personal safety. Although this paddling isn't as long as on the lowland rivers. If you raft without an instructor, strong paddling will be even more important. Mountain rafting is shorter than plain one, but more intense. That's great, if you have rafting experience on lowland rivers. Individuals with considerable weight may be excluded from rafting due to difficulty of water rescue process.
Physical training is not required. The person must be healthy, without significant overweight and able to scramble out quickly on a spoke 50 cm height. Ability to swim is desirable.
When rafting is complicated (Rioni, Mizunka, Prut rivers or high water level on Cheremosh) instructor's decision is determinative. That means the instructor decides if individual is ready for rafting on certain river with current water level. Besides, previous Cheremosh rafting experience is welcomed.
Trekking tours
Hiking is physically harder than rafting, because you have to walk 10-20 km per day and carry a backpack yourself. To feel comfortable in Ukrainian hiking, it's worth to go running occasionally. For example, that's good enough when you run 5 km per half an hour. To prevent knee joints trauma while descending, you should squat at home. It is worth also to run up and downstairs with light backpack.
Average physical training is required, for example, being able to run 4-5 km per half an hour, to squat 5 times on 1 leg.
Climbing in mountains, alpinistic trips, winter hiking tours
In the mountains good physical condition are vital above 3000 meters altitude. There's a danger of altitude sickness here, and the speed of climbing becomes determinative. Therefore, you should seriously prepare for climbing, to go running regularly and do a variety of exercises to improve cardio-respiratory endurance.
Good physical training is required, for example, being able to run 5-6 km per half an hour, to squat 10-15 times on 1 leg.