If you like rafting in the Carpathians, and rafting on the Black Cheremosh seems too simple and banal, then we know what to offer you - rafting on the Prut. You will not find a more powerful river in Ukraine, because the Prut River is one of the most difficult to cross among all the rivers of the Ukrainian Carpathians. A prerequisite for participation in rafting on the Prut is the experience of rafting on the Black Cheremosh in high water, the experience of turning in kayaks and the ability to cross sections of the river by self-rafting.

The main points of rafting on the Prut:
the road from Rada Daraba to Prut takes about 1 hour
the total length of the alloy is about 3 km
duration of rafting on the Prut - two hours
we start rafting in front of the Prykarpatsky rapid, on the border of Mykulychyn and Yaremche
we complete before or after the Probiy waterfall, which is near the souvenir market in Yaremche
after rafting on the Prut, if this is the last day of your vacation in the Carpathians, you can immediately plan a trip home without returning to Krasnyk. Hydraulic clothing and other equipment for rafting will be picked up by our instructors themselves.
Despite the relatively short distance of the rafting, the river will not let you relax for a second. It is very stormy, with a fast current. The most dynamic part begins in the Yaremche canyon, where you will pass the Prykarpattia threshold. The highlight of rafting on the Prut is the Probiy waterfall, the height difference of which is 8 m. Our instructors on the spot decide whether it is safe for the Probiy group to pass. It depends on several factors - the water level in the river and the physical capabilities of the group. The emotions you will feel while rafting on the Prut will stay with you for a long time. Even when you come next year to rafting again, you will remember every second of passing the Prut, because the impressions will remain so strong that it is hard to forget.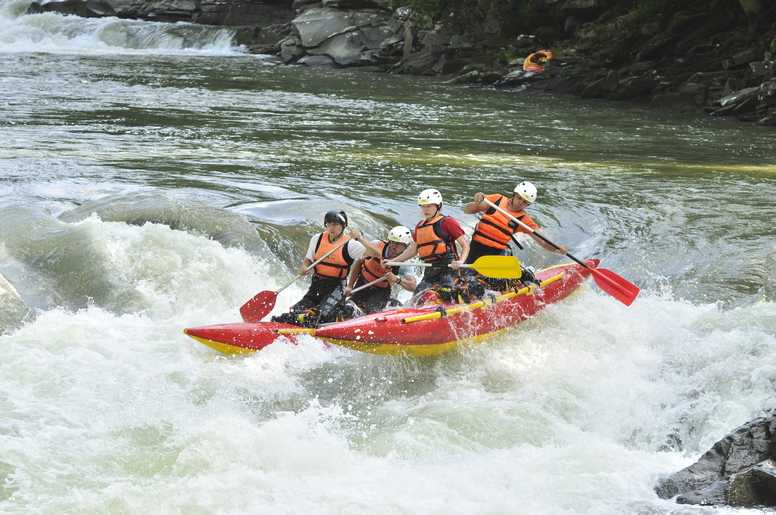 It is worth noting that rafting on the Prut is possible only at the appropriate water level. Therefore, rafting here is carried out mainly in spring, from early April to mid-May, when the melting snow from Hoverla, where the Prut originates, fills the river. We do not raft on the Prut during floods, as it can be dangerous.