13.09
It's 4:30 AM. I'm waiting for the flight Kyiv-Kutaisi in the airport Zhuliany. It must be a rich travel – trekking in the Georgian Caucasus, rising on the Kazbek (5033 m) and rafting on the turbulent river Rioni, national delicies and Georgian hospitality. I'm going with my favorite Tourclub Ternopil.
It's 9 AM for local time – gamardzhoba, Sakartvelo!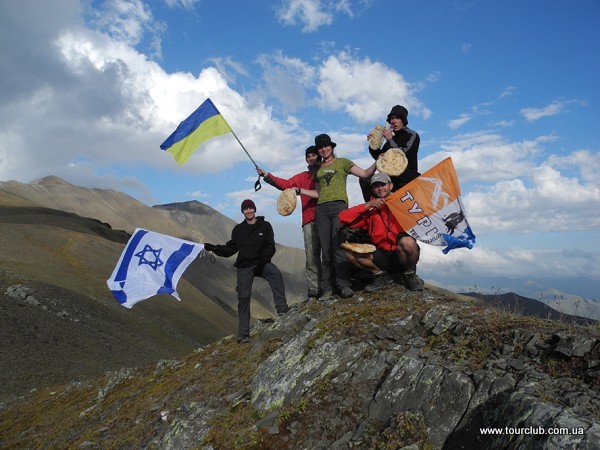 We have a time till 2 PM, when our man from Kharkiv will come – full 4 Georgian hours. And we are going to Kutaisi, but not in center of the city, and to outskirts – it's simply to walk. And this is it, a famous Georgian hospitality – I just asked when I can have a bite – and they lead us by the hand in a very comfortable café, where we eat our first indescribable delicious kebab and hinkali. We are returning to airport.
Sasha Rybakov (Kamyanets), leader of the group, is coming and we are moving by minibus in the long travel to the Dzhuta village, which is situated not far from Kazbek.
14.09
Sleeping in the field with a view on Kazbek, and in the morning we are starting a rising on the Chaukhi passage. We must make a circle during two days – to pass a Chaukhi passage and came back another way. The weather is fine, views are magical, really big mountains. They don't like Crimea or Carpathians. We are sleeping on the passage on the height 3200 m.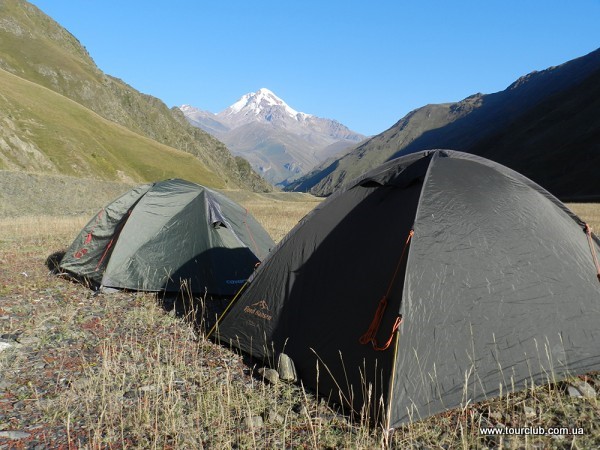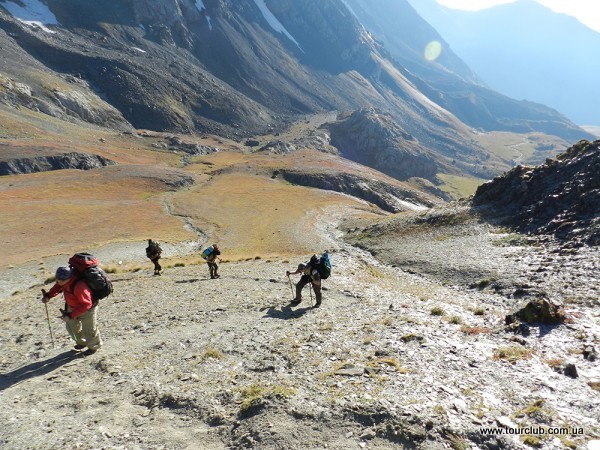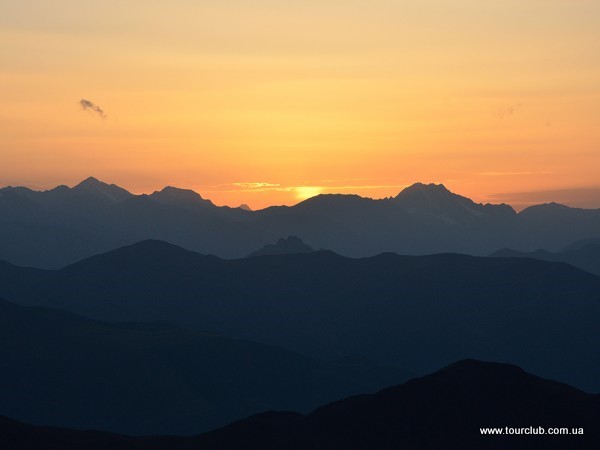 15.09
We are continuing to go. There is slope, uphill, again slope. In the evening, after our trekking finish, the weather is breaking, the storm is beginning. We are going near the mountain refuge just in time, probably it was built with American money, because it is called UA AID Hut. It is very qualitative wood house, there is a shower , and even… modern washing-machine.
And lightning shine like a fireworks.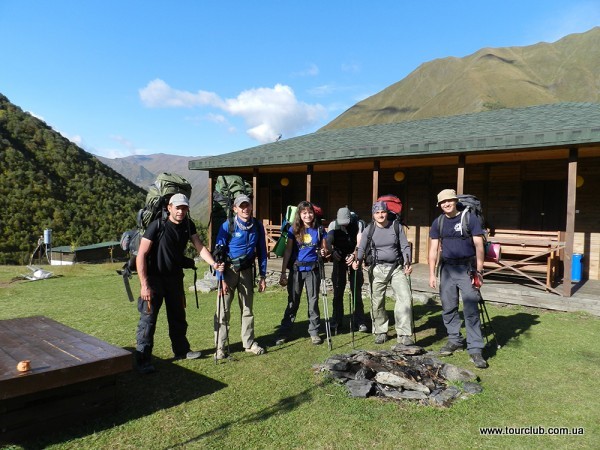 16.09
After taking an ice shower we are coming forward in the turn of Kazbegi. We are repacking, drinking local tarragon. We are going in the microbus from village to the church Tsminda-Sameba (Triniti Gergeti). Local Dzhigits offer their jeeps-offroaders, but we are going by our loyal microbus-sprinter through the bumpy serpentine. Sasha shows wonders of driving. Riding toward ledrowers are probably in the shock because of such audacity. We are seeing the church, it is really very beautiful. We are filling the bottles of water and continuing our raising. During the raise we are meeting another group of Tourclub – the team, which must get the top of Kazbek before us. Unfortunately weather didn't give it. At that time, when we watched the fireworks of lightning on the territory of American base, they all night hold bows of tents on the height 4000 m, trying don't let them be taken by the wind.
During several last days we didn't make any raise. Weather prognosis is hopeless enough – weather must become a sufficient for the raise after several days. We don't have such cushion of time. There was a suggestion don't take a ropes and equipment, and just hang out in the meteorological station. Our martial spirit is depressed little bit, but there is enough of our severity to climb with a full complement of equipment.
We are going farther. We traditionally are getting our stop about night. But there is something in it… It is height 3000 m, you can feel a cooling. A delicious supper, a warm company and branded jokes from Max, became a tradition for these several days, make warm.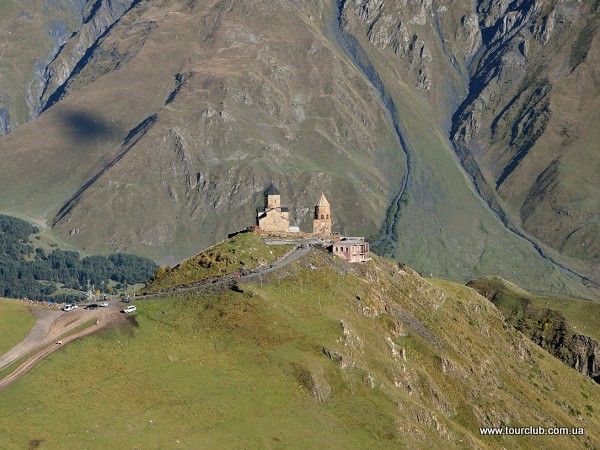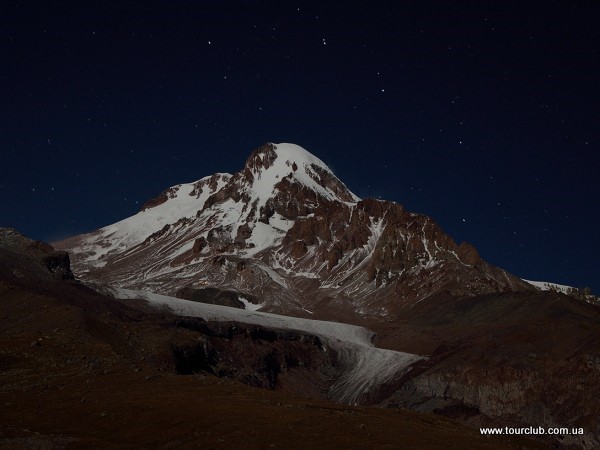 17.09
In the morning we came to the glacier under meteorological station. The glacier is relatively open, we are climbing in the grapplers. Such experience is first for me, and first steps in grapplers are strange enough – it is not clear what force you need to apply to don't slide on the steep slope. But after several time it is become not hard. Several groups are climbing with us, there are even Georgian militaries.
Finally first glacier is over, and we are rising to the colorful cheerful meteorological station. Weather isn't so cheerful – gloomy sky, wind, snow. Weather isn't becoming better even as evening became. In the night there is a snowstorm, the rising impossible.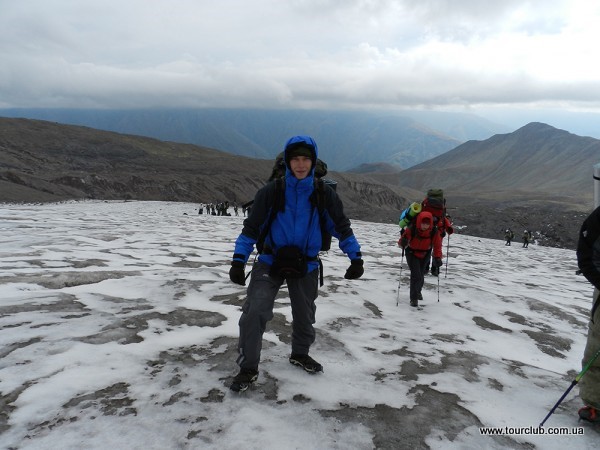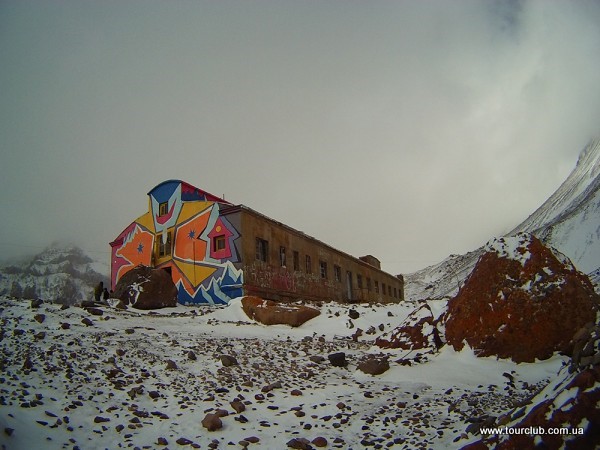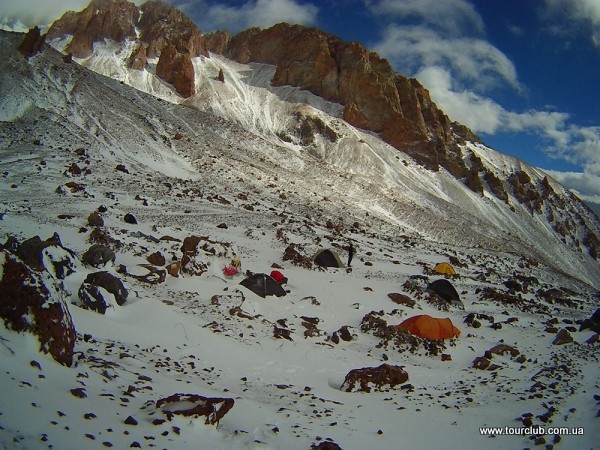 18.09
Next morning everything is the same. We are doing an acclimatization rising to the small chapel on the height 3900 m, then a training of lifting from cracks, and rescue operations.
In the evening everyone worry. It is no clear what we can wait from this Kazbek.
19.09
And it's 2 AM, we are getting up. And we can see stars on the sky! We can go! The wind is little bit stronger, than it must be, but we don't miss our attempt to make a rising. There is a movement in the meteorological station, preparing, fast breakfast. Two more groups are rising.
First part of rising is dark, like in the dream. We got the glacier just at dawn. There are ropes, systems, swiveling hooks, woggle checking, grappling hooks, again checking, clusters.
Finally we are rising. The Morning among old mountains, and it is unbelievable beautiful. It is long, exhausting rising. The breathing strays, after every 20 steps you want to make a stop and just breathe.
Finally, there is an abutment, saddle.
Last gasp – the top is already seemed totally near. But last rising is most steep and tiring. There is a present from Kazbek and Saakashvili (which made a raise few weeks ago) – something like a stairs are laid in the snow, that make a rising easier.
And here it is, a top. It's unbelievable – I am seeking a continuation, as before that, there must be some angle again. But no, it is really top!
There is sun, deep blue sky. The clouds are lower us. There are peaks of near mountains. It is a beauty, which hard to compare with something else.
But time for beauty is limited – about 20 minutes the strong wind came, everything is covering by clouds. We are beginning a come-down. Little bit more, and we are going in sheeted milk, visibility is very bad. But it is not such hard to go down.
Several hours of coming down, and that's all, the glacier ended, we are stepping on the real solid ground. Till this time we can't believe that we really have risen. Last part of day there were a joy, good and calm. Nice evening in the meteorological station. Euphoria.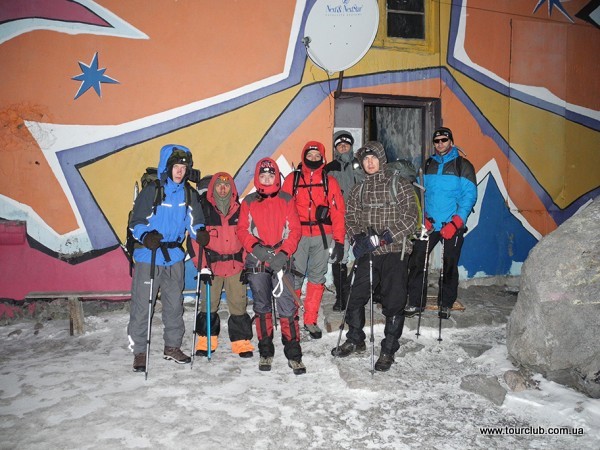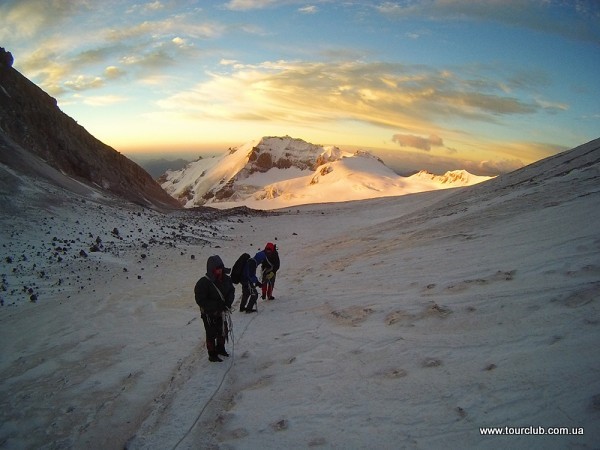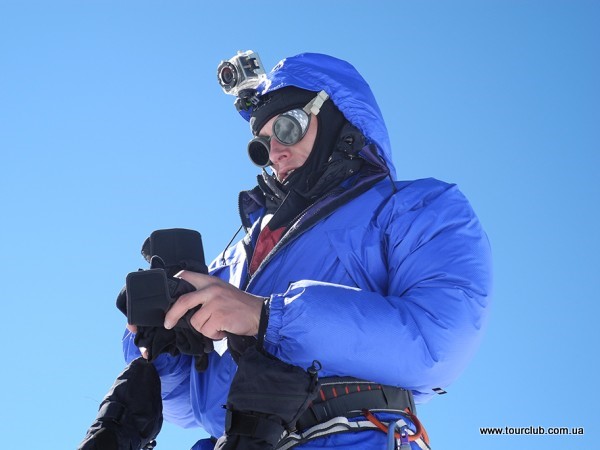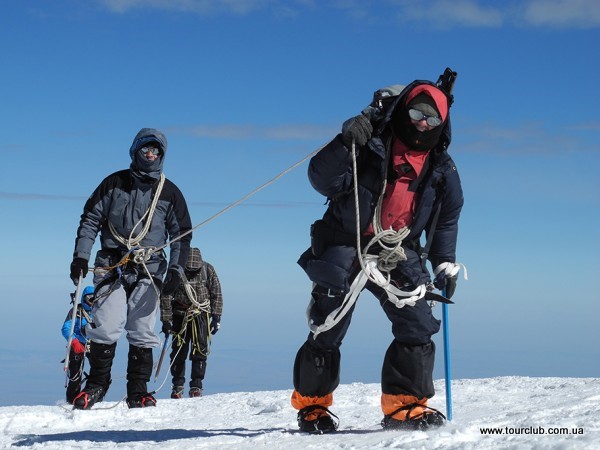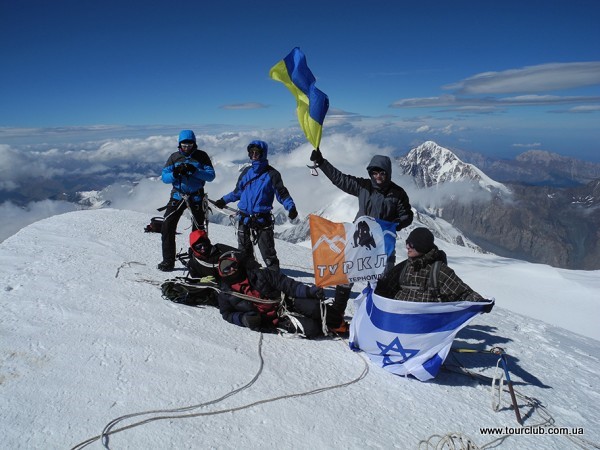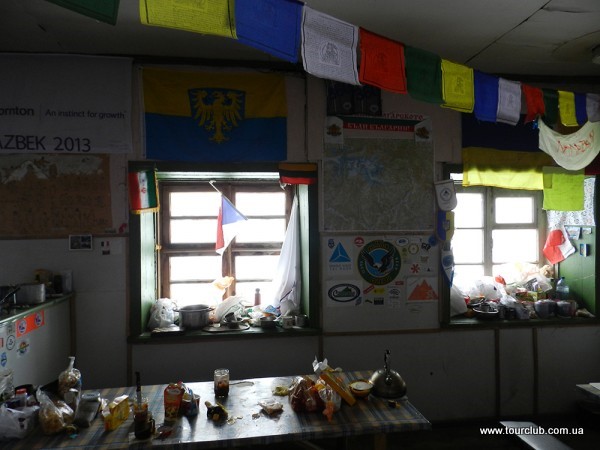 20.09
We started long after than we planned. We went down fast enough, but not such, as we wanted – because today we must be in Tbilisi, the Tiflis saunas wait for us. But something went wrong… Planned run down delayed. And we came to Tbilisi after 9 PM. But even after 9 PM we managed to get a hydrogen sulphide enjoyment after week in mountains.
Night Tbilisi charms. It is lively and cheerful, with old streets and high-tech constructions, with a huge amount of musicians on the streets and in café. With a smiling and sincere Georgians.
We are seeking place to spend a night. In the dark backstreet we are seeing a title «Hostel». Inexplicably there is no any hostel , but we found guys, which immediately run to seek a sleeping place for us and found a hostel on the neighboring street. It is well located, comfortable Art Hostel Tbilisi.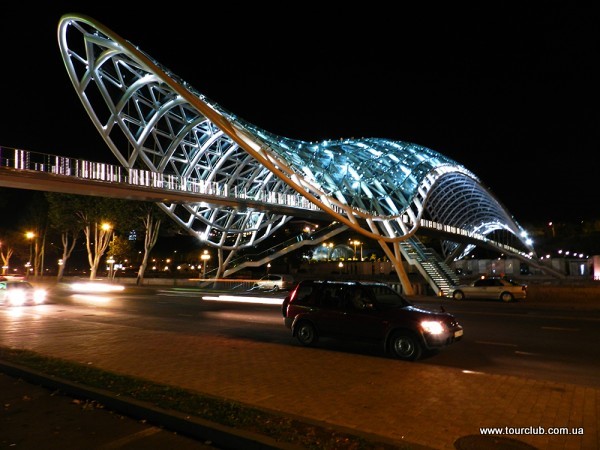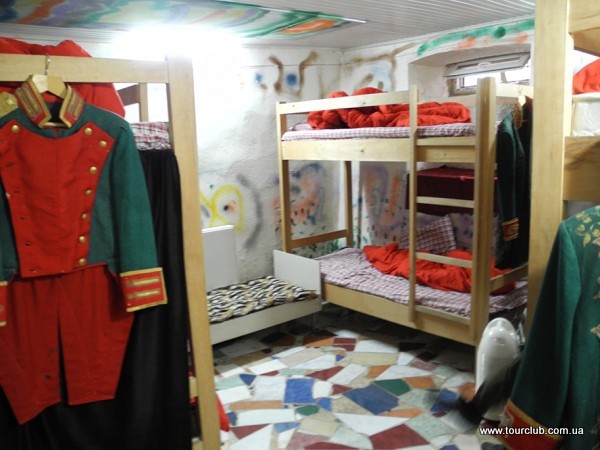 It is really good hostel. They even dtape the pyjamas over the beds...
21.09
In spite of that we went to sleep about 3 AM, at 9 AM I am in the cozy streets again. The Saturday sleepy morning is in the Old town. I wanted to feel every minute in Tbilisi. This city caught me. Or maybe it because of lack of time in it)
It's 12 AM, time to move. But we couldn't – a bet if one man can eat 15 raw eggs cannot get passed. So one hour was wasted for accepting bets and excitement. And it is real, at least for Yura – Egg champion.
We are driving in Mtskheta, seeing old church.
Also we found very authentic place for dinner near Mtskheta – hinkalnya with an unexpected name «Kirpich». The entrance is through garages, and tables are situated in the bowers on the several floors. There are delicious, cheap and homelike. And name «Kirpich» (from Russian – brick) is because some time ago there was a brick-making plant.
And again long movement. Svanetia. We are going to have rafting on the river Rioni. It is rain in the evening, we are going by mountain serpentine. The mist is such deep, that we can't see anything in 2 meters. And again a mastership of our drivers saves us.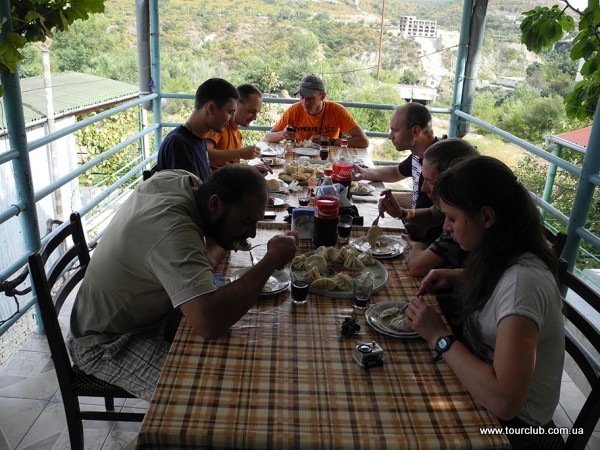 22.09, 23.09
This year water level in Rioni is too high. High water waves, powerful barrels. It threw our raft like something easy! His rostrum such proudly raised on the waves, that several times we almost fall in the water. There were a lot of impressions.
And we slept in the Swiss farm. And it was nice, because since midday till next morning the rain drizzled, that made us sick of it already. And we had an empty apartment, but with furnace and even with firewood. And it was totally free.
One more day was also with rafting, the adrenalin in canyons.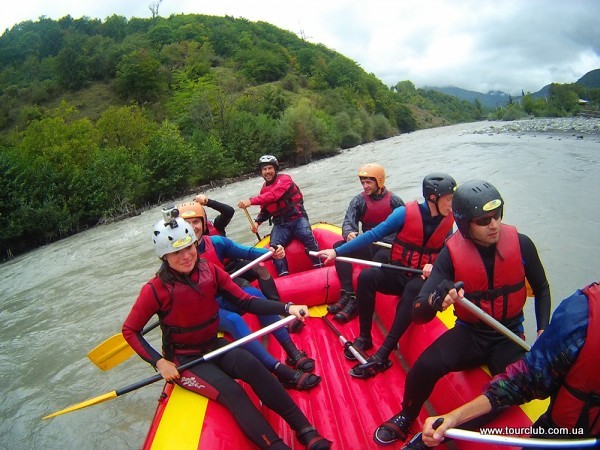 24.09, 25.09, 26.09
Next day we just cannot change our route and we are going to the….seaaaaaa!!! We put up a tent near Kobuleti. Till the evening there was a fine weather, there were pines on the shore, warm water.
There were also a Prometheus cavern, walks in Kutaisi, goodbye to hinkali and khachapuri.
And it is again plain, and again Ukraine.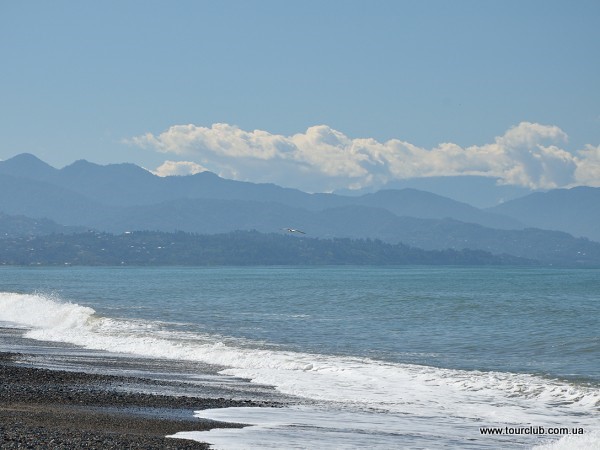 The video report is edited))
Thanks for photos to Yura, Taras, Dima, Sasha.
P.S. And finally several thinks in favor of similar «aggressive» rest:
The purification of consciousness. Reload. Rethinking. When during some time your environment are totally changed – region, people, impressions. In such moments the thinks and ideas always come, which in usual life just have no time to come.
The time of such travel has a property to stretch. When all your days are rich, there is a strong impression, that instead of two weeks you have a rest during one month or more)
«NP (new people) injection». When you some time are among people, which you see first time. And there is an express-understanding of other people, especially take into account an extremality of situations.
When you came back, then a real joy appears because of entirely simple actions. When I came back I felt just a child happiness because of turning the key in a lock. J And about usual bed I even won't talk))
The participant of travelAlisa Korn