The lower lift station is at 1,990 m (6,500 feet), and the top station is at 3,007 m (9,860 feet !). In april 2011 five Doppelmayer ski-lifts worked.
First ski-lift 1053 metres long - three chairs (Night skiing)
Second ski-lift 2295 metres long - high speed chairlift, four chairs
Third - 1063 metres long - three chairs (to Kudebi)
Fourth - three chairs, 1104metres
Fifth - four chairs, 1504metres (to Sadzele)
Gondola lift (monocable circulating ropeway) - 2800 metres long, for 8 pers
New training slope with Doppelmayer J-bar - 600 metres long.
Snow park and SunKid people mover - 300m.
Gudauri has 50 km of marked and prepared routes suitable for pro-riders and beginners. They had 22 routes in 2012.
20% professional routes 80% - riders routs.
Lifts work: in winter10:00-17:00, in spring (end of March, April): Monday-Friday: 9:00-15:00, Saturday-Sunday: 9:00-16:00, regardless of people number. Cable railway may be closed in rare occasions of very low visibility or high wind. Cable railway is equipped with standby power generator for blackout protection.
The evening skiing on the first route on Saturday: 20:00-22:00.
Ski area map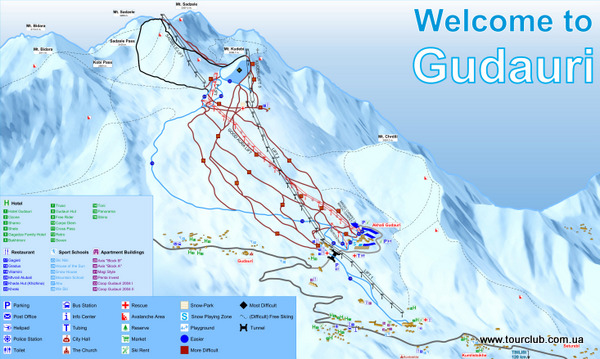 About ski tour in Gudauri read on our web-site.