One of the best forms of active vacation is hiking in the Carpathians Mountains. It is a wonderful way to forget about all household routines, to take away from routine and to transfer from the hustle and bustle of the city in the harmonious world of the nature. In addition, the vacation in Ukraine's Carpathians is an excellent opportunity to have a good time with friends. Together with our travel agency, your vacation will be absolutely easy on the pocket - book and very picturesque!
The active vacation in the Carpathians Mountains with our travel agency is possible both for beginners, and skilled tourists. Don't worry if you are interested in active vacation and you are eager to hit the first hiking in the Carpathians Mountains, but you are in fear of a lack of experience, your physical form is far from perfect and there is no necessary equipment. The best thing is to choose the vacation with residence in comfortable noble houses in the Carpathians Mountains, and to include one-day ascensions of the mountains in the program of the vacation. Certainly, one-day ascensions on Goverla and Pop Ivan Chernogorsky are the most popular. Well, if you more skilled tourist, you will be provided with a wide range of interesting multi-day hiking in the Carpathians Mountains. With the lapse of time you will want to increase the complexity of hiking. For a start, a two-day or three-day hiking without big climbing will suit you best, but later, with acquisition experience, a multi-day hiking to the backcountry of the Carpathians Mountains will be especially comfortable for you.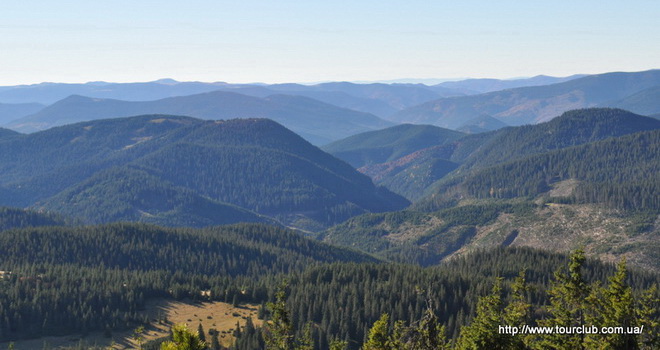 Hiking in Ukraine's Carpathians is the real active vacation. A journey to the mountains will become very cheerful if to go with the whole company. It is always a good mood, the collective clearing of obstacles on the way, cheerful talk over the fire, guitar singing, and the opportunity to share impressions with friends. Besides, hiking in the Carpathians Mountains is the real journey in wild places with an indescribable beauty spot. Just imagine, in the mountains, the sunsets are met and sunrises are accompanied above clouds, you can breathe the crystal-clear, invigorating air. The spice aroma of a pine and a juniper is spread round you with special freshness. The streams of life-giving and clean water in the truest sense of the word will revitalize you and will revive your spirits. All this incredible beauty, will allow you to remain under the impression for a long time…
Well now! Let's conquer the mountain peaks of the Carpathians together!